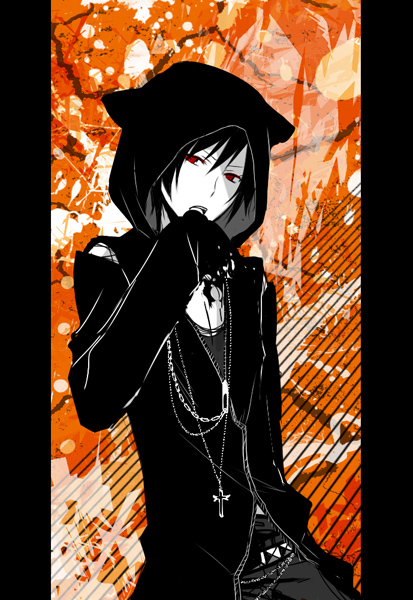 ¤¤¤ INFORMATION ¤¤¤
Full Name:
Uchiha Suzaku (Suzaku Uchiha)
Nickname(s):
Suzu
Codename:
Shinku
Alias(es):
(Vermillion Bird // Vermillion Phoenix) of Konoha
Age:
21
Classification:
Kage (Hokage)
Affiliation:
Konoha
¤¤¤ DESCRIPTION ¤¤¤
Hair Color:
Jet black
Eye Color:
Onyx
Gender:
Male
Height:
6'3"
Weight:
160 lbs
Other Traits:
He has slight tear lines like one of his ancestors, Uchiha Itachi.
¤¤¤ PROWESS ¤¤¤
Elemental Natures:
Fire - Lightning
Skills:
Suzaku has numerous skills as the next prodigy of the Uchiha clan, being trained extensively to fluency in infiltration, strategy, tactics, taijutsu, kenjutsu, and mathematics. He has some basic training in medical ninutsu, and is also extremely proficient in genjutsu and ninjutsu. He's about everything his enemies hoped he wouldn't be.
Weaknesses:
Suzaku is actually pretty weak to women when confronting them. He doesn't like the idea of hurting them. That doesn't mean he'll take a knife to the chest from one and die before killing them, but he doesn't like hurting them if he can avoid it. He also has a code of honor. It isn't like most; he'll fight you in the most diabolical way if you aren't an honest fighter yourself. But he'll try to fight fairly if you do.
Equipment:
Kunai, shuriken, two katana, a set of unique throwing knives, smokebombs, explosive tags, summoning scrolls, and two tactical tomahawks.
¤¤¤ PSYCH EVAL ¤¤¤
Personality:
Suzaku can be very cold and calculative, part of the reason he's been nominated for the position of Kage in Konoha. But this is only through training. In reality Suzaku is a very warm and passionate individual, with a colorful personality. He wants to restore his family's honor for all of the wrongdoing they've done in the past, what with Madara, Obito, Itachi, and Sasuke, and he also wants to do Konoha proud, as it was his lifelong dream to amend these wrongs and become Hokage to do so.
Strengths:
Suzaku's headstrong, and has extreme willpower. As an Uchiha he is very resilient to genjutsu, and obviously very skilled at using genjutsu. Due to his eye traits and his training, he is a formidable combatant at any range, and can adapt to nearly any situation. He is a fearsome opponent to have against you.
Interests/Habits:
Sake, swordplay, tea, the colors red and black, ramen, all kinds of women, fighting, math, traps, calligraphy, strategy, and teaching.
¤¤¤ ORIGIN ¤¤¤
Family Members:
Sarada Uchiha
Place of Origin:
Konoha
History:
Suzaku excelled in school, leaving it at only the age of six, and became a Chunin at the age of nine. He mastered the Grand Fireball Jutsu at the age of seven, and had gone on to become a Jounin at the age of thirteen. He carried out missions for the ANBU Black Ops for five years from the age of fifteen, and got nominated for Hokage position at twenty. They removed him from ANBU missions and allowed him to lead a squad of Genin for a year while they groomed him, and now he's entering the office. He's led all of his missions with great success, learning from his mistakes to become a better ninja and save any situation that went wrong.