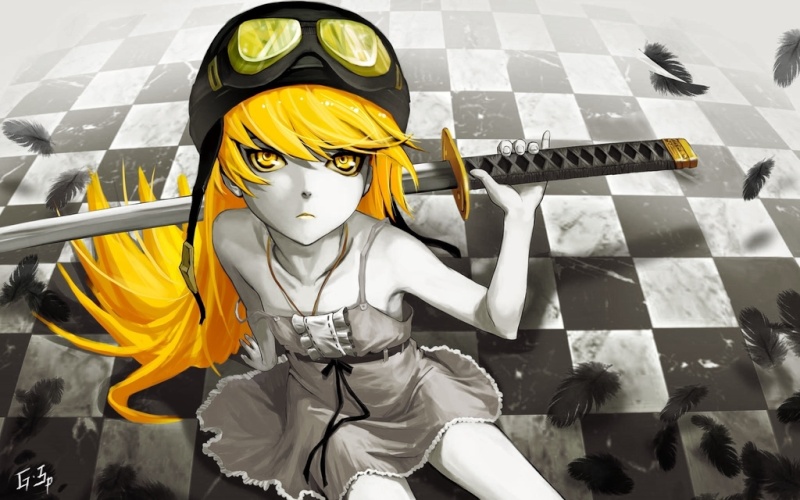 ¤¤¤ INFORMATION ¤¤¤
Full Name:
Yumiko Itami
Nickname(s):
Yumi
Codename:
N/A
Alias(es):
N/A
Age:
10
Classification:
Civilian
Affiliation:
Neutral
¤¤¤ DESCRIPTION ¤¤¤
Hair Color:
Blond
Eye Color:
Yellow
Gender:
Female
Height:
4'5"
Weight:
60 lbs
Other Traits:
Very Pale, to the point where it almost looks unhealthy.
¤¤¤ PROWESS ¤¤¤
Elemental Natures:
Lightning, Water, Earth, Fire, Wind
Skills:
Yumi is a natural talent and an extremely adept learner. Everything she tries she almost immediately finds herself improving right away. Where it might take one person 10 years to master a style, she might be able to do it in one year. A natural prodigy.
Yumi is extremely good at controlling her chakara, which she discovered at a young age that she has a lot of. Her chakara level is well above the average jounin and her control is perfect, so she doesn't expel any unneeded chakara when casting any jutsu.
Yumi is extremely perceptive. A quick learner, and she notices every detail. It's hard to play tricks on her observant eyes, and she is uncanny at noticing social ques and peoples nervous ticks.
Yumi is extremely nimble and agile. Her small size helps with this a lot, and her chakara control to her feet is perfect which makes her speed nearly unmatchable.
Weaknesses:
Yumi is a fast learner, but has not been trained in any combat techniques as of yet. Any experienced or trained fighter would have a distinct advantage against her, and she is often prone to fall for traps in combat that a more experienced fighter might avoid.
Physically, Yumi is weak. She is just a child after all. She has to rely on dodging and ducking more than blocking, because blocking powerful blows greatly risks injuring herself.
Equipment:
A large sword, and she also has a tailored set of armor for her size. She doesn't wear the horns because it gets stuck on her hair that she's unwilling to cut, but she finds that the ventilator is too helpful in a sandstorm to pass up a lot of the times. When it's warm out, she will usually dress appropriately. She has a large backpack that she carries clothes and food in, along with tools like daggers and scrolls.
¤¤¤ PSYCH EVAL ¤¤¤
Personality:
Yumi knows what she wants and is rather self centered and assertive about it. She isn't patient and often will remind those around her that she is waiting if she is made to. She doesn't take no for an answer very well, and is extremely stubborn. Oftentimes she can get her way just by bugging people enough.
Strengths:
Usually gets her way, and blends into crowds rather well.
Interests/Habits:
Though she rarely shares her habits, she has a set of chibi toys that she is in love with playing. She collected all of the tailed beasts and even some more famous shinobi.
¤¤¤ ORIGIN ¤¤¤
Family Members:
Kuro Itami (Grandfather)
Place of Origin:
Land of Iron
History:
Yumi was adopted at a young age, and from the moment she started speaking and walking, she was a handful. She was also insanely impressive for a child. She graduated from her schooling at the age of 8, and was forced by her parents to take time off so she could grow up and be a kid for a little while.
This was not what she did in that time, in the following two years she discovered chakara and how to control it. She could run on top of snow without ever falling in, and immediately her adoptive parents knew that she wasn't going to stay around for long. It hurt them, but they saw the antsy little girl and came to terms with it.
She stayed for a while, having found one more topic that held her interest. Her birth parents and her blood family. They lived in the outskirts of the Land of Iron, one of the lesser developed towns, so information was difficult to come by. The only thing she managed to find was a house.
It wasn't her birth parents house, but rather her grandfather who had passed away shortly before she found the house. Inside she found his gear, and a few short memoirs of his time as a ninja. One story interested her particular. He was at the Kage Summit years ago, and almost lost his life to black flames that were cast from a Leaf Ninja's eyes. The thought amazed her.
It was at that point that she decided she wanted to learn everything there was to know about jutsu and being a samurai. Feeling a debt to the Samurai of the Iron, she wanted to join their ranks and then travel to the Hidden Villages and undergo training in their arts that she could bring back to empower their small, weak military.
When she informed her parents of her mission, they resisted and said it was too dangerous. Over a period of about a week, they realized that Yumi was going to go with or without their permission, though, so they caved. They got her tailored Samurai armor, hoping to protect her as she ventured out towards the capital to start her journey.