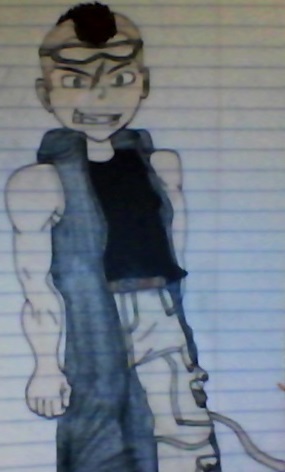 ¤¤¤ INFORMATION ¤¤¤
Full Name:
Mamuro Sho
Nickname(s):
"Glorious Hero"(Self chosen, of course), String plucker, paint thrower.
Codename:
Wind Singer
Alias(es):
n/a
Age:
15
Classification:
Genin
Affiliation:
Sunagakure
¤¤¤ DESCRIPTION ¤¤¤
Hair Color:
Brown
Eye Color:
Bright Blue
Gender
male
Height:
5'5
Weight:
120
Other Traits:
His upper Canines are slightly longer and pointer than most, though that doesn't seem to indicate anything special, scar from a tussle a while back, and always wears his fathers combat goggles.
¤¤¤ PROWESS ¤¤¤
Elemental Natures:
Wind, Earth, Kekkai Genkei Magnet Release
Skills:
Excellent Musician, Great at artwork, and skilled at fusing wind/earth chakra and music,accurate with shuriken/kunai, lightly skilled in healing.
Weaknesses:
Hey,hey, not so close!!:He's used to fighting from a distance with his techiniques and shuriken/kunai. Close the distance, and he's not so effective.
So Im easy to trick, so what?: He's still a tad naïve, no matter how much he tries to be a rogue, so he's susceptible to tricks, jutsu or otherewise.
Hey, maaan, don't mess with my wind: He tends to rely upon wind techniques, which means his attacks are usually susceptible to wind canceling jutsu.
D-don't call me a newbie...: he's inexperienced, combat and otherwise, and thus isn't as skilled as he could be.
Equipment:
Heavily modified shamisen, lots of kunai and shuriken, standard genin supplies, his fathers battle goggles, sack of steel dust for his Magnet Release.
¤¤¤ PSYCH EVAL ¤¤¤
Personality:
he's goofy and cheerful, happily making his life through the path he walks, from training to trying to make a band. He really loves music and art. He also seems a tad cocky, though he insists that's because you gotta be loud if you want people to hear your name. He's also slightly silvertongued, and enjoys lightly flirting with girls, and also using it to sweet talk females when he's in trouble with them. The tongue can also be a silver plated dagger, which he uses to slice up anyone that annoys him. He's very cheeky, especially with people he likes and respects. It's when he's not teasing that you need to worry, though he's also slightly more subdued with people whoms measure he hasn't gotten yet.He loves pranks as a method of 'recompsense'.
Strengths:
Watch it, you might just cut yourself on that oh so sharp brain of yours:He's very skilled in using his wit to dress people down, and either atangonize them into making a mistake, or sending them into stunned silence.
hey, a real legend doesn't abandon his fans: he's very loyal to teammates, and doesn't often back off when they're under threat.
Hey, why so serious?; he's very resistant towards sadness and negative feelings.
Interests/Habits:
Making music, searching for bandmates, making money by painting peoples shops/etc, pranking people who've earned his ire.
¤¤¤ ORIGIN ¤¤¤
Family Members:
M.I.A
Place of Origin:
Village hidden in the Sand
History:
His parents were both Jonin of Sunakagure, and were sent on a mission when he was small, and disappeared. The only thing they found was his fathers battle goggles...Eversince then, he's been a ward of the village, watched over by various families, learning and growing.